Obituaries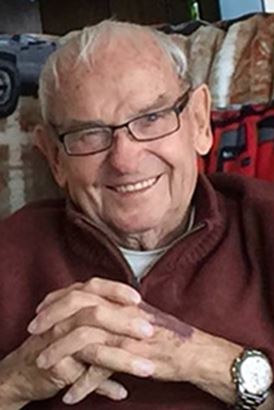 Dennis Wayne "Den" Cooper, age 85 passed away Thursday April 21st, 2016 at his home in Ithaca, MI with his family by his side. Den was the son of Hollis and Louise (Rhynard) Cooper.. He is survived by his children Douglas Cooper, Deborah (Ted) Komperda, Daryl (Denise Reese) Cooper, K-j (Michael) Krum, Step-Daughter Pat Dixon. His brother Dee (Bonnie) Cooper, His sister June Smith, and brother-in-law Richard Abbott as well as many grandchildren, great grandchildren, and nieces and nephews.

Dennis and his family hosted the Rhynard Reunion for many years in the 1990s, always making them very special events!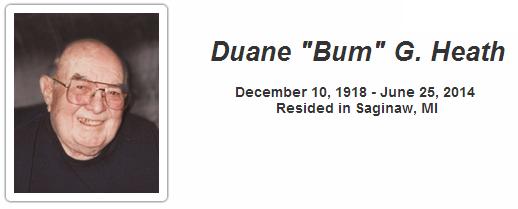 Duane G. Heath (Bum), Saginaw, Mighigan, Passed away Wednesday, June 25, 2014. Age 95 years.
The son of the late Charles E. and Myrtle Z. (Rhynard) Heath was born December 10, 1918, in Northstar, Michigan. He graduated from Ithaca High School, Class of 1938. He served with the U.S. Army Infantry, 13th replacement depot in the Pacific during WWII. He married Shirley Baker VerVoort, October 20, 1951. She passed away September 13, 1964. He was connected with the Heath Meat Company for many years, employed by Dunn Tile and Block supply for three years, and later, by Morley Brothers Industrial Division as a sales rep. He was also employed as a greeter at W.L. Case and Co. Funeral Chapel. He was a member of the Eagles Club #497, a life member of the B.P.O.E. #47 and was Elk of the year in 1968-69. He was also an active sponsor in association with the St. Vincent's Orphan bowling league and also acted as Santa Claus for the orphans. He was a member and past President of the S.P.E.B.S.Q.S.A., Inc. Chapter #6 (Barbershop Quartet), and a past member of the Saginaw Home Builders Association. He was a life member of American Legion Post #439 was a member of the D.A.V. #117. Bum was also an active sportsman and enjoyed the outdoors, hunting, golf and bowling to name a few.
Surviving are two sons, Michael C. Heath and his wife, Lorrie, Greensboro, GA, Gary W. Heath, Napoleon, Ohio, three grandchildren, Jason, Derek, and Erin, three great grandchildren, two nieces and four nephews. He was predeceased by a granddaughter, Ashley Heath, sister, two brothers, Maxine Cheney, Howard and Cloyd (Dan) Heath.
Military committal service was Monday, June 30, 2014, at Roselawn Memorial Gardens Cemetery under the auspices of American Legion Post #439. Those planning an expression of sympathy may wish to consider the charity of their choice.
Information has been received of the passing of Clare Rhynard on Nov. 6, 2004 in Arizona. It is also reported his sister, Mable of St., Louis died previously. More information as it becomes available.
Rhynard, Victor Haslett, MI Age 94, died May 31, 2004. Born August 22, 1909 in Edmore, Michigan the son of Nancy and Ervin Rhynard. He was preceded in death by his parents, sister, Merna and brothers, Lyle and Wayne. He is survived by his wife, Anna M.; sister, Mabel Crawford; brother, Clare Rhynard; many aunts, uncles, cousins and many friends. He was owner and manager of Rhynard Truck Sales for 50 years. He retired October 19, 1993. He was President of Michigan GMC Truck Dealers Association. The Funeral Liturgy will be held Thursday, June 3, 10 AM at the Gorsline-Runciman Co. East Chapel, 1730 E. Grand River Avenue, East Lansing. The Rite of Committal will follow in St. Joseph Catholic Cemetery Mausoleum. The family will receive friends at the Gorsline-Runciman Co. East Chapel Wednesday from 6-8 PM.
(Obituary from the Lansing State Journal)

Wanda Graham passed away on January 30, 2004.
Wanda is the daughter of John and Elvah (Rhynard) Gott.

Kenneth Earl Rhynard, 76, of Manistique, died Friday, April 4th, 2003, at Schoolcraft Medical Care Facility in Manistique.

He was born January 12, 1927, in Flint, Mich., the son of the late Earl and Ethel (Lewis) Rhynard and was a graduate of Alma High School. He attended Alma College and later received a football scholarship from and was a graduate of Michigan State University.

He served in the U.S. Navy during World War II, in the Asiatic Pacific area and served in the U.S. Navy again during the Korean War.

On September 29, 1956, he married the former Mary Ann Walters in Manistique. They lived in the Lower Michigan area for several years and returned to Manistique in 1981 following his retirement.

He served in the Michigan State Police for 31 years, seeing duty in Ypsilanti, Manistique, Munising and Bay City Posts. He retired in 1981 as a sergeant after working as a civil defense coordinator for the State Police in Bay City.

He was a life member of the Alma Masonic Lodge, a member of the Lakeside Lodge 371 of Manistique, and was a past president of the Exchange Club in Auburn, Michigan. He enjoyed scuba diving, operating ham radios, fishing, hunting and reading.

Survivors include: his wife, Mary Ann Rhynard of Manistique, two sons, Mark (Cindy) Rhynard of Auburn, Michigan, and Kurt (Michele) Rhynard of New Berlin, Wisconsin; five grandchildren; one great-grandchild.

In addition to his parents, one sister, Geraldine Currie, preceded him in death.

Friends may call from call from 4-6 p.m., Monday April 14, at the Messier-Broullire Funeral Home in Manistique. A veteran's memorial service will be held at 5 p.m. Services celebrating the life of Ken will be held at 6 p.m. at the funeral home with Celebrant Carole Cooper officiating. Burial will be held in the Fairview Cemetery in Manistique.

In Loving Memory of Leslie Rhynard
Leslie was born in Middleton, MI on March 7, 1924, the only child of Frank and Beatrice (Counsellor) Rhynard. He graduated from Ashley High School in 1941. He entered the United States Marine Corp in December of 1942. Les served in WWII, Korea and Vietnam. He retired in 1971 after 28 years of military service, having attained the rank of Chief Warrant Officer.
Les moved to Phoenix, AZ with his family, where he lived the remainder of his life. After a long illness he passed away on August 1, 2002. He was a dedicated member of Galilee Baptist Church beginning in 1974.
He was an avid bowler. In his final years, he participated in three bowling leagues: Galilee Baptist Church, Retired Bowlers, and Non-Smokers. He was a founding member of the Western Rhynard Reunion held annually in California.
Les was devoted to his family and was very active in their lives. He will be dearly missed by: Gracie, the mother of his children; daughter Barbara, her husband Dave, and their children, David and Rebecca; daughter Sherri, her husband Karl, and their daughters, Meghan and Korey; daughter Wanda, her husband Johnnie, and their sons, Shelby and Chase: son Leslie, his wife Beckey, and their children, Jayde, Wilson, Mason, and Easton; and sons, Adam and Paul. Les greatly enjoyed his ten grandchildren.
Our deepest sympathies go out to the family of Ashley Heath. Ashley, Gary Heath's daughter, was killed in an automobile accident on Saturday, June 1, 2002 in Napoleon, Ohio. Ashley was to have graduated from high school in June and was looking forward to starting college at Bowling Green University this coming fall. Our heartfelt condolences to the Heath family. Gary is the son of Duane "Bum" Heath, who is the son of Myrtie (Rhynard) Heath, who is the daughter of Jasper and Melvina Rhynard.

Nona Maxine (Heath) Cheney, 79, of Ithaca, died Wednesday, May 16, 2001, at Schnepp Health Care Center in St. Louis.

She was born March 22, 1922, in Ithaca, the daughter of Charles E. and Zyllie Myrtie (Rhynard) Heath. On May 27, 1961 she married Carl Cheney, in Ithaca.

She is survived by her husband, Carl Cheney of Ithaca; son, Mike Armstrong of Oakton, VA.; daughter, Sydney (Teryl) Studer of Millington; grandchildren, Matt (Ruth Anne) Studer of Columbus, Ohio, Marc (Priscilla) Studer of Fitchburg, Mass., and Meredith Studer of Millington; great-granddaughter, Riana Studer of Columbus, Ohio; sister-in-law, Marjorie Heath of Saginaw; and brother, Duane "Bum" Heath of Saginaw.

She was preceded in death by her parents; and two brothers, Howard Heath and Cloyd "Dan" Heath. Funeral services were Friday, May 18, at the Dodge Funeral Home in Middleton, with Pastor George Showers of the New Haven Church of God officiating. Interment was in the New Haven Township Cemetery. Memorial contributions may be made to the New Haven Church of God Building Fund.